Dawn & Vince's wedding story was held at the beautiful Riu Yucatan hotel in Playa del Carmen. Their wedding was small, short and sweet at the beach in the Riviera's white sand. They sealed their wedding ceremony with their vows and finally a kiss.
Then came the wedding reception! They came up with great DIY ideas for their guest's tables with hungover kits, useful right? Joy and happiness surrounded this wedding
The Hotel Riu Yucatan is one of the few hotels in the riviera that don't charge for wedding vendors fee, which is totally awesome from their part.
The couple wanted a country like theme to their video so we agreed and let them choose their favorite songs.
The Resort's Wedding Ceremony Premises
We always try to be as candid as possible when shooting a wedding, this time, we would've liked the hotel to reserve a more private spot for their wedding ceremony at the beach. Unfortunately they couldn't get a better location resulting in a crowded space and tons of non guests in the background. Not a problem when you can just blur out everything with the camera.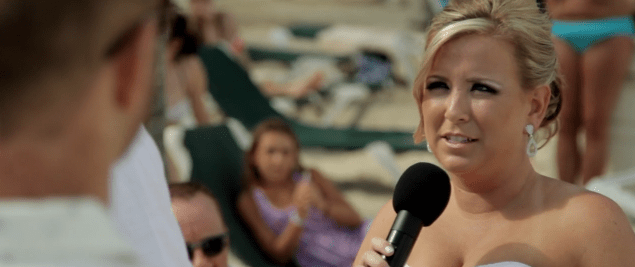 In Conclusion
Dawn & Vince's wedding was a great event filled with happy family and guests, their small wedding was well attended by the Riu Yucatan resort's staff. They laughed, danced and had the time of their lives!
Service Information
LoveWorks Cinema offers Riu Yucatan wedding photography and videography coverage in Cancun and the Riviera Maya area, including but not limited to, playa del carmen, Tulum, Cozumel, and the surrounding areas. In addition, we also offer coverage in Yucatán and other destination wedding locations.
If you're looking for a wedding video studio in Cancun, the Riviera Maya or elsewere, please contact us for more information.
Location Information
We are located conveniently in Cancun, Quintana Roo, Mexico.